Romer Air circulation furnaces for powder coating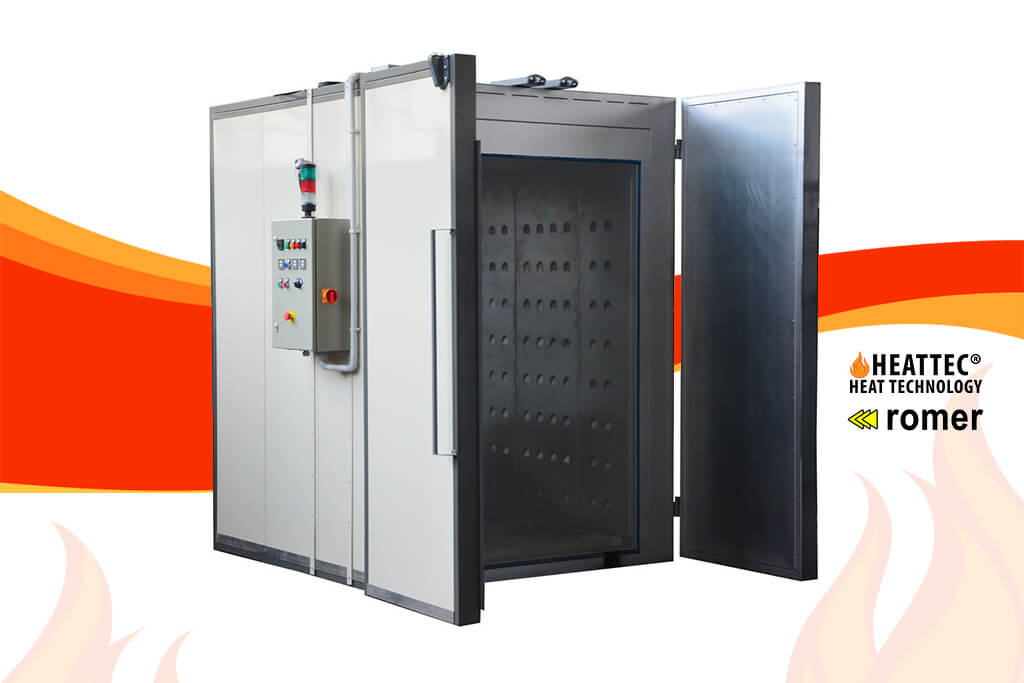 Heattec® supplies, installs, offers service and maintenance to all Romer powder coating equipment, including air circulation furnaces.
We are the official partner and distributor of Romer in the Benelux. Romer has been a powder coating equipment manufacturer since 1992 and has produced more than 1,000 machines for customers in more than 26 countries.
Romer produces powder coating installations for single piece production as well as complete powder coating lines. At this moment we also supply the following products:
Furnaces for powder coating
High temperature furnaces
Spray booths for spraying powder coating
Cyclone spray booths
Automated powder coating systems
Powder coat hand spray
Pre-treatment baths
Ultrasonic bathing
Automatic washing installations
Filters, heating elements, heat exchangers
Transport systems
Spare parts and consumables
These furnace installations are suitable for drying, baking and making metals, plastics and composite materials more sustainable.
We can deliver with short delivery times of any desired size, standard 12 to 14 weeks. Heattec has its own assembly team and can carry out the assembly and commissioning for you if required. Warranty 1 year, based on "send back & return". These air circulation furnaces can also be gas-fired, with direct or indirect heat transfer.
These furnaces are standard equipped with electric heating and are supplied plug-ready for the following prices:
Inner dimensions: 1.2 (W) x1.8 (H) x1.6 (D) meters, 15 kW power: € 11,270.00 excl. VAT and ex-works delivery
Inner dimensions: 1.2 (W) x1.8 (H) x2.5 (D) meters, 18 kW power: € 12,708.00 excl. VAT and ex-works delivery
Inner dimensions: 1.2 (W) x1.8 (H) x3.0 (D) meters, 30 kW power: € 13,843.00 excl. VAT and ex-works delivery
With the air circulation furnaces, a fan unit in the furnace roof ensures better and faster heat transfer, and the evenness of these furnaces is better than furnace where heat transfer takes place through natural convection. These furnace installations are explained for furnace temperatures up to 230 ° C and have a temperature uniformity of +/- 4 ºC (comply with the Qualicoat standard).
Variants with different dimensions and / or oil or gas fired are of course available on request.
If required, we also supply the necessary peripheral equipment, such as: powder coating hand sprayers and extraction booths, etc. You can also come to us for service, maintenance and legally required gas inspections of your existing installations, regardless of manufacture and condition.
Neem vrijblijvend contact met ons op, op telefoonnummer 0485-311686, zodat wij u uitvoerig kunnen adviseren over onze mogelijkheden.